Keera awarded Most Creative Games Development Company in UK
It is our pleasure to announce that we have been awarded Most Creative Mobile Games Development Company in UK at CV Magazine's Technology Innovator Awards 2020.
We thank Corporate Vision for this fantastic award. We would also like to thank every single person who has helped us get here. We thank the players who buy our games, the beta testers who give us countless amount of feedback, and people who spread our message, helping us reach further and further. We also thank the people who work tirelessly to make Keera a reality, and those who keep opening their doors to us so that we can continue this incredible journey.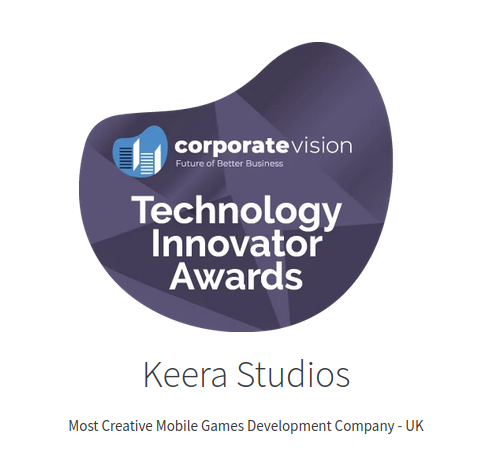 As delighted as we are to be recognized for our effort, this is just the beginning. We will work harder than ever before, releasing new titles, overcoming new challenges, and daring into the unknown, as we continue to take Haskell into exciting, uncharted territory. We hope you come with us, you cheer for us, you smile with us, and that, above all else, you have an unforgettable time playing our games.
Happy Haskelling! Have fun!
---